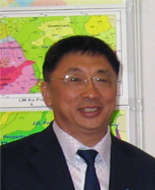 Our President, Dr (Joe) Taihe Zhou, is an internationally recognized and highly respected expert in tectonics and Chinese gold and base metal exploration and development. Dr Zhou was a co-author of the Chinese Government's book "Mineral Deposits of China" and was the head editor of 2002 special volume of "Tectonics and Gold of China" for Mineralium Deposita, co-editing with Dr. Richard Goldfarb of the United States Geological Survey (USGS). In 2008, Dr Zhou was appointed as a Nomination Committee member for SEG (Society of Economic Geologists).

Dr Zhou is not only a famous economic geologist but also a successful business entrepreneur. He is the foremost expert for the resource JV projects between the Chinese mining industries and overseas mining companies. He was once invited to accompany the former Australian Prime Minister Bob Hawke to visit China as an advisor. He worked for the Chinese Ministry of Geology & Mineral Resources (MGMR) for over 12 years and was one of the general managers of the AWI Administration Services Pty Ltd, which was the second largest gold producer in Australia at the time. Dr. Zhou was the representative of Australia's outstanding Chinese representatives and was honored to meet the former President Jiang Zemin. He has been directors of several exploration & mining companies in Canada, Australia, Britain and China.

In addition, Dr. Zhou has good communication channels and personal relations with Chinese government officials. He has operated business and investments in Hainan province since 2002 and has very good relations with local government.